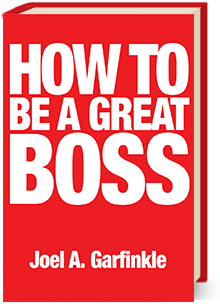 How to Be a Good Boss
You can excel in your next job when you develop the seven skills all great bosses have. Joel Garfinkle has helped hundreds of people learn how to be a good boss. You could be the next one. You will stand out from the competition when you know the secrets of "good boss" success. No one is born with "boss" skills. You need to learn how to do it. Maybe you were given boss status because you did a good job as an employee. But it's going to take more than that to get to the next level. With some effort and commitment on your part, you can become the boss your employees deserve and this book will show you the way.
Immediately after your payment has been approved,
you will be provided with a link to download this ebook in PDF format.
Conflict is unavoidable
The Great Boss book is direct, hard-hitting, and filled with anecdotes, success stories, and how-tos. You'll learn how to empower your employees, how to train and motivate through feedback, how to create a positive workplace culture, and much more. Download How to Be a Great Boss now and become the leader you were meant to be.
How to Be a Great Boss
Do you really know how to be a good boss? What will your next employer see when he or she considers your boss potential? Every company wants to hire great leaders who will inspire and motivate their employees. Top career coach Joel Garfinkle shows how you can go from good to great by acquiring the seven qualities of a good boss.
No matter where you are today on the "Good Boss/Bad Boss" spectrum, there is always room for growth and Joel will show you how to get to the next level. How you can become a good boss depends on your use of these seven key skills:
You empower employees
You provide growth opportunities
You train through feedback
You make the tough choices
You give thanks
You create a positive workplace culture
You show them the future
Each section of this book provides you with a do-it-now challenge—three or four actions you can take immediately that will enhance your good boss qualities and put you on the great boss fast track.
Download the book and start today. Small changes, implemented consistently over time, will show you how to be a good boss and get on track to becoming a great boss.